| | | |
| --- | --- | --- |
| | February 17, 2012 | |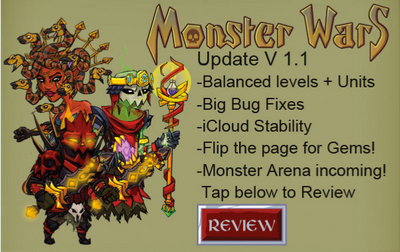 In 1.1 Liv Games fixed a lot of bugs:
Improved iCloud stability for saved games between one and two devices
Improved stability on older devices for 5-1 and 6-10 and fixed the bug that would sometimes not unlock next difficulty.
Fixed rare crashes on iPod touch 4th generation for 4-4, 4-7, 5-1, 6-6 and 6-10
Added full unit selection in armory on Hard/Legendary and balances.
Increased Touch areas for shield and map to match the Soulkeeper Desk.
Fixed 6 achievements that did not unlock properly.
Rebalanced monster prices.
New fastball bomb imp tier 2 special. Impy is now 10% smaller and 5% meaner.
Lots of other minor improvements and bug fixes
Ad blocker interference detected!
Wikia is a free-to-use site that makes money from advertising. We have a modified experience for viewers using ad blockers

Wikia is not accessible if you've made further modifications. Remove the custom ad blocker rule(s) and the page will load as expected.