4-6 is a level in the
Toxic Swamp
in which you will face medusa. After you beat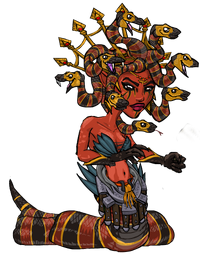 Medusa
she will join your army for 2 soulstones.
Strategy
You'll need
Tier 3 Archer
Tier 3 Vampire
Tier 3 Defensive unit(STRONGEST DEFENSIVE UNIT YOU HAVE)(Skully, Deadknight, Zombie, Gargoyle, Troll, and Reaper)
How-To
here is a graph how you should put your units, A's are Archers, V's are Vampires, and D's are defensive. This is just the pattern it should go in. It does really matter how many units you just want a lot.
A D V A D V D A D A D
A D V A D V D A D A D
A D V A D V D A D A D
Attack
Send out your defensive units
After your defensive units are half way there send out your Archers and Vampires
let the defensive units fight them
Use your archers special ability at the snake queen
If she doesn't die please tell me on facebook i am Brandon Walters
Ad blocker interference detected!
Wikia is a free-to-use site that makes money from advertising. We have a modified experience for viewers using ad blockers

Wikia is not accessible if you've made further modifications. Remove the custom ad blocker rule(s) and the page will load as expected.